What is a non-visible disability?
 A non-visible disability is a disability or health condition that is not immediately obvious. It can defy stereotypes of what people might think disabled people look like. 
This can make it difficult for people with non-visible disabilities to access what they need. The impact of living with a non-visible disability can be slight, or can have a huge effect on someone's life.  
Why is it called a non-visible disability?
Many disabled people self-identify in different ways. There are several ways of talking about non-visible disabilities. 
Some people with disabilities that are not obvious prefer the phrase 'non-visible'. This is because the word 'invisible' can erase the legitimacy of the disability, or imply the disability does not exist. 
'Hidden' disability can imply a person is hiding their disability on purpose. 'Less-visible' disability does not encompass those whose condition is completely non-visible. 
With non-visible disabilities it is important to emphasise that even though the disability cannot be seen, it does not mean it does not exist. 
Some 'non-visible' conditions are visible or obvious sometimes. Also, they can be 'seen' by some people who might have a better understanding of the condition. But they are not usually visible to others.
Non-visible disabilities are named this way because you cannot always easily see the nature of the disability. Some people with non-visible disabilities might use mobility aids, whereas others will not. 
Also, some people with non-visible disabilities might have a 'dynamic disability'. This means that sometimes they might use a mobility aid, but other times they might not need it. Likewise, sometimes they might need to use a priority seat on busy public transport. Other times they may not feel they need to.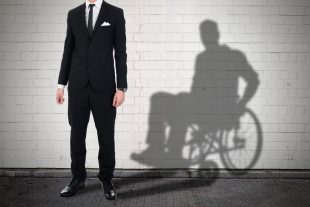 Which disabilities are non-visible?
Daily life can look different for people with non-visible disabilities. Non-visible disabilities include a wide range of disabilities. These are not limited to, but may include:
mental health conditions, including anxiety, depression, schizophrenia, personality disorders, obsessive compulsive disorder

autism and Asperger's syndrome

visual impairments or restricted vision

hearing loss

sensory and processing difficulties

cognitive impairment, including dementia, traumatic brain injury, or learning disabilities

non-visible health conditions, including diabetes, chronic pain or fatigue, respiratory conditions, incontinence
There are many different types of non-visible disability. The kind of support that people with non-visible disabilities need differs. 
It is best not to assume what kind of support someone might need. Listening to the needs of disabled people and acting on them is the best course of action.
How should I act towards people with non-visible disabilities?
People with non-visible disabilities want to be treated with respect and as individuals – just like people with visible disabilities and the general population. Even though you cannot see evidence of a disability, the disability still exists.  
Nobody has to tell you they have a disability, or explain what it is. People can choose to keep this private. Some people may choose to wear a lanyard or carry a badge to show that they have a non-visible disability. It shows they may need extra support whilst travelling or shopping. Other people with non-visible disabilities prefer not to do this. Some people may wear a different lanyard or badge to alert you to their disability or 'impairment'. 
Non-visible disabilities and COVID-19
Some people with non-visible disabilities are more vulnerable or susceptible to COVID-19, but others are not. Some people with non-visible disabilities are exempt from wearing face-coverings.  
If you are exempt, you do not have to prove this to other people. Some people who have exemptions and a non-visible disability, want to demonstrate that they are exempt. 
There are several schemes which allow someone to do this. You could wear the sunflower lanyard or cards explaining you have a medical exemption from wearing a face-covering. Schemes include: 
There are many other organisations and disability charities that produce bespoke mask-exemption identification. 


Raising awareness
We can provide better support the more we understand about non-visible illnesses. Everyday things can be difficult for people with non-visible disabilities. These include travel, work, shopping and socialising. 
Making sure not to judge someone based on whether their disability is visible or not is crucial. 
Listening to disabled people and making sure accessibility is inclusive is important. This could help improve the lives of people with non-visible disabilities.
We will be posting our next blog in January, in the meantime join the conversation and follow us on Twitter @DisabilityUnit to keep up-to-date with what we're doing.